Benefits of IV Sedation
February 17, 2016 8:14 am
---
Riverstone Dental Care is excited to announce that we will soon be using IV sedation at our dental office! What is IV sedation and when is it used in dentistry? IV (intravenous) medication is administered to patients for the purposes of making them as comfortable and as relaxed as possible. The IV is typically inserted into the top of your hand or in the crook of your inner elbow via a very small needle. Afraid of needles? Don't worry, since the needle is so small you'll barely feel it.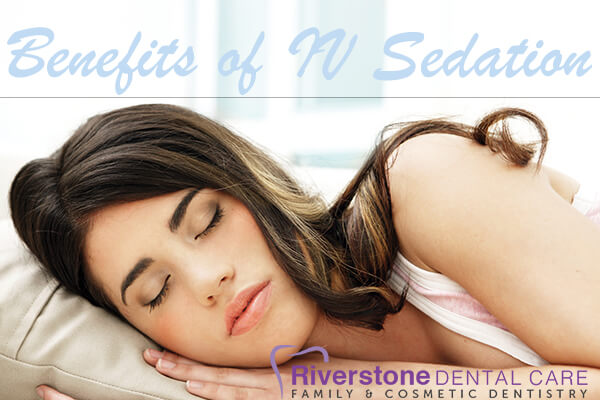 The benefits of sedation dentistry include:
Relaxation
Increased comfort
Time saving (fewer appointments)
Generally, IV sedation dentistry is used for patients who are having a procedure such as a tooth extraction, or for those who have very sensitive teeth, have a bad gag reflex, need a lot of dental work done at once, for those who have a low pain threshold, and even for those who simply can't sit still in a dentist's chair!
Improved efficiency in dental visits
Recovery time following IV sedation is typically better than the recovery time following oral sedation. This is largely due to the fact that the dentist can continually control the level of IV sedation for the patient throughout the procedure. IV sedation also works within just a few second, so for nervous nellies, it doesn't take long before the relaxation of IV sedation kicks in!
If you have severe dental anxiety, don't put off going to the dentist for this reason alone! Remember that there are options available to you such as IV sedation and other types of sedation. Sedation dentistry will relieve you of your anxiety and make the dentist visit more relaxing.
Riverstone Dental Care understands that anxiety can be a big demotivator for making dental appointments. This is one of the reasons why we will soon be bringing IV sedation dentistry to our office, a mutually beneficial addition for both the patients and the dentist.
Schedule an appointment at Riverstone Dental Care today to get a healthy and happy smile!
Categorised in: Family Dental Care, General Dental