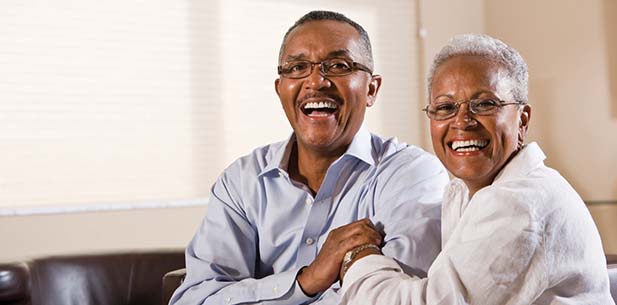 Restorative Dental Care in Canton, GA
In order to ensure your smile stays completely healthy, we offer advanced dental treatments for the restoration of your natural tooth. Our approach is centered around preserving as much of your natural smile as possible and using restorations like fillings, crowns, and implants to ensure the future health and function of your smile.
Our Restorative Dental Services Include:
Dental implants are small titanium posts that act as replacement tooth roots. They fuse with the jawbone and provide an anchor for beautiful tooth restorations that will attach on top. We provide start-to-finish implant services which means we can complete the placement and restoration process under one roof! We won't have to refer you out to other dentists to replace your missing teeth and achieve a full smile.

If you're missing most or all of your teeth on the top or lower arch, dentures could be a great option for you. Dentures have an acrylic, gum-colored base with false (but realistic-looking) teeth attached to it. Depending on your needs, budget, and the health of your jawbone, you can secure your denture with extra-strength adhesive or pop the denture into place with dental implants.

Dental crowns are a versatile dental treatment. They can be used for both cosmetic and restorative purposes as they cap an existing tooth. They're often used to cover cracks and chips, strengthen a weak or broken tooth, transform the appearance of a tooth, or support a tooth after a large filling. Dental crowns are custom-made to match the shape and color of your existing teeth so it blends in seamlessly with your smile.

From dental injuries to severe infections, root canal therapy can alleviate toothaches and preserve your natural tooth. The root canal treatment removes damaged pulp from a tooth's canals and thoroughly cleans out/disinfects the tooth to prevent future infection. If needed, a dental crown may be placed over the tooth for additional strength and protection. While root canals may sound intimidating, they're actually a common, stress-free procedure!
Benefits of Restorative Dental Treatments
When routine maintenance like exams and cleanings aren't enough to keep your teeth looking and functioning their best, restorative dental care can repair and even replace your teeth. If you have tooth decay, a small filling helps to relieve your pain and give your natural tooth extra strength. We can repair a cracked or broken tooth with the help of a dental crown. This keeps your natural tooth structure, including the root, in place and protects the outside of the tooth. Patients who have experienced tooth loss benefit most from dental implants or dentures. Implants in particular help maintain your face shape and keep surrounding teeth in place. There are many reasons we may suggest a restorative dental treatment. Your mouth is unique, and we want to help you have a beautiful smile to show off. If you ever have questions about treatments we recommend, don't hesitate to ask. We're happy to walk you through what we're recommending and why.