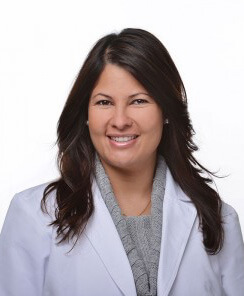 Meet Dr. Linkous Ruximar Linkous, DDS
Dr. Ruximar Linkous was born and raised in Venezuela, where she graduated from the Central University of Venezuela as a dentist in 2001. In the two years following her graduation, Dr. Linkous practiced dentistry until she made the courageous decision to come to the United States to learn English in order to specialize in periodontics. It was in Marietta, Georgia, that Dr. Linkous met her future husband, and after getting married, she made the decision to stay in the United States and make it her new home. Because of her passion for dentistry, Dr. Linkous worked as a dental assistant while applying to various dental schools to complete her international studies. With acceptance into four dental schools, she and her husband decided to move to Texas, where she attended the University of Texas Health Science Center in San Antonio. After arduous work, she completed the dental program in May of 2013, graduating with awards in cosmetic dentistry and best clinician. Dr. Linkous continued her education beyond dental school by graduating from The Dawson Academy, which offers advanced continuing education courses for dentists looking to improve their efficiency and the care they provide to patients.
Being a Canton dentist is a source of pride for Dr. Linkous. She has a passion for serving the community and providing high-quality family dentistry to her patients. She believes in providing the best possible care for patients and values preventive dentistry, considering it one of the most important factors in maintaining the physical and emotional health of a patient. As part of her commitment to providing quality family dental care, Dr. Linkous takes the time to establish relationships with her patients based on trust and respect. She always wants you to feel like a part of your oral healthcare, not just a bystander, so she's happy to answer your questions at any time.
With her many years of experience, Dr. Linkous has a passion for the field and for providing care for family dentistry. She believes in providing the best possible care for patients and values preventive dentistry, considering it one of the most important factors in maintaining the physical and emotional health of a patient.
Dr. Linkous and her husband, Chris, reside in the Kennesaw area, and they have a 6-year-old daughter named Reese and a three-year-old daughter named Riley. Dr. Linkous enjoys spending time with family and friends and loves outdoors activities like jogging, hiking, and swimming.
Contact Us
Spend Less. Smile More!
We're committed to providing affordable dentistry that doesn't cut corners on quality. We offer a wide range of financial options from insurance to CareCredit® and LendingClub payment plans to help you and your family save big on the care you need.
Questions? Please feel free to reach out and one of our team members would be more than happy to answer them!
View Financial Options
Service to Smile About
Not all dentists are the same. This group had so much patience with my son. It is difficult to find a group as communicative and understanding of special needs. Thank you for a great visit.
- Cheryl R.
My whole family uses Riverstone Dental! They are awesome. They are all very friendly and kind. I highly recommend using them.
- Susan D.
Dr. Linkous is a great dentist she is careful professional and give you the right advice to get your best smile. She has blessed hands I recommend her 100%.
- Roris O.
I have nothing but great things to say about Riverstone Dental. I picked them because they had the best reviews and I know why... I absolutely love these ladies. Very professional office.
- John
Great experience. I had not been to the dentist in over 20 years and was really nervous, but when I arrived and met the great staff at Riverstone Dental they made me feel at ease. Everyone was great from the receptionist to the doctor and everyone in between. Doctor Tran is the best and I would highly recommend this practice.
- Jose N.
Riverstone staff were awesome!  They were very personable and me and my girls felt very comfortable. I'm so relieved that I've found this practice so my family can get regular check ups and whatever we might need. The office is really nice too, pretty and welcoming. You can believe the positive feedback! The great reviews I read were all true!
- Allison C.
What a wonderful experience to have at a dentist office. From the moment I walked through the door the staff was warm, courteous, and professional. Everyone made me feel relaxed and did an outstanding job explaining each procedure. I can't say enough about their professionalism and will return for all my dental needs.
- Bonnie H.
Dr Linkous and her staff are amazing! So gentle and caring, and they did so much for me as a new (emergent) patient, and they did it so quickly to get me out of excruciating pain! I cannot thank them or recommend them enough!
- Dee E.
I always hated going to the dentist but not here! The staff are like family and my hygienist is always so kind and gentle and the docs are great! It's worth the drive from Cumming!
- Nicole M.
Previous
Previous