At Riverstone Dental Care, we are proud to offer you all of the Canton family dental treatments and services your family needs to achieve the long-lasting, beautiful smile they have always dreamed of. Dr. Tran and Dr. Linkous, our knowledgeable Canton dentists, are able to treat all of the members of your family, including seniors and children. We offer comprehensive family dental care in a stress-free, pressure-free environment.
We work with you to determine what is best for your smile because we believe that patients should be active participants in their dental health, not passive bystanders. We give you the information you need to make informed decisions about your treatment instead of just telling you what to do. This helps you feel confident that what we're doing is what's best for your needs and lifestyle. In the end, we know you'll feel great about your smile.
Patients of All Ages Welcome!
Modern amenities for your family's comfort. Call Us »
Patients of All Ages Welcome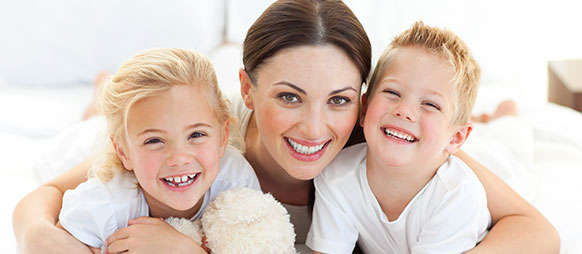 We provide care for patients from 1 to 100. Because we offer complete and advanced care right here in our office, we're a one-stop-shop for your family's dental needs. From pediatric care to dental implants, we perform a wide variety of procedures at our dental office. We respect the doctor-patient relationship and know how important it is that you trust your dentist, so we're proud to say that we rarely refer our patients out, even for specialized care.
Get your family back to doing what they love with a convenient, family-block dental appointment!
We never want you to feel in the dark about your oral health, so we are always happy to answer any questions you may have as we start you on the road to a healthier smile. Our entire Canton family dental team looks forward to meeting you and your family and getting to know you better. We hope to hear from you soon!