3 Weird But Effective Ways to Make Sure You're Brushing Your Teeth Long Enough
July 14, 2016 3:10 pm
---
Although most people brush their teeth using a great toothbrush and technique, they fail to hit the two-minute mark: You should be brushing your teeth for at least two minutes. However, it can be difficult to mentally time the minutes and no one wants to count to 120 in their head! Fortunately, there are plenty of weird but effective ways to make sure you're brushing your teeth long enough!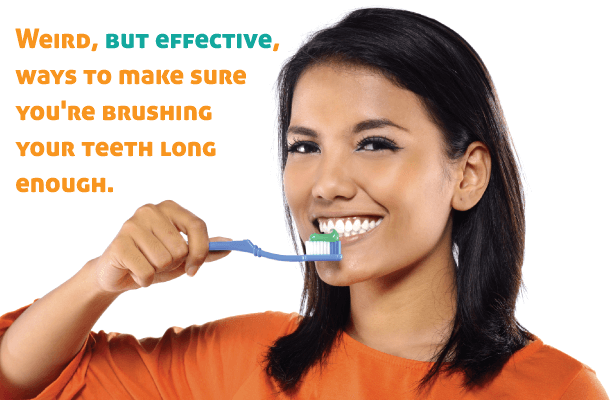 Here are our top three:
Hum a tune: Sing Happy Birthday…every day…twice a day! Why not? Every day is someone's birthday, right? Hum the tune a couple of times and you've reached your two-minute mark! You can even make up your own two-minute song and add a little dance. We won't tell!
Use your kitchen timer: If you have a handheld kitchen timer or a stopwatch, bring it with you when you brush! This is a surefire way to make sure you reach two minutes. 
Have a fun poster for the kids: If your kids aren't too patient about brushing their teeth, pin a chart to your bathroom wall and let them check it off each time they've brushed for at least two minutes. You can even use stickers, but no candy rewards!
It's important not to forget about flossing too! Make sure you keep your floss visible and near your toothbrush so that you remember to add it to your daily routine. You can also keep travel-sized floss in your purse, gym bag, and work desk to remember to do it throughout the day—if you tend to forget to do it at night.
Even with a perfect oral health routine and at least two minutes of brushing a day, it's important to regularly check in with your dentist! Contact Dr. Linkous for your next comprehensive dental appointment today!
Categorised in: General Dental