5 Tips for Choosing Dental Insurance
December 22, 2015 2:24 pm
---
What do you need to consider when choosing the right dental insurance? Are you choosing it for just yourself or for your whole family? First, you need to understand what your needs are because different age groups are going to face different dental health challenges. Depending on which age group you fall into, consider the specific needs you may have for your dental plan. In addition to your age, here are some main considerations to keep in mind when you are selecting a plan.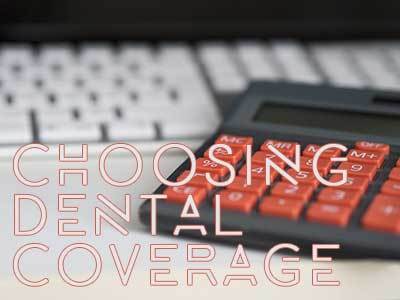 Network
If a dentist agrees to participate in a network then they are agreeing to accept fees which are substantially lower than the retail prices of dental care. The larger the network, the more likely your dentist participates in it.
Cost Management of the Plan
Premiums are one measure of the cost of your dental insurance, and there are other costs to consider when choosing the right insurance. For example, a good plan will focus on helping customers manage their oral health which includes encouraging them to partake in preventative care. Good preventative care will reduce long-term dental costs and will also improve your overall health. For example, getting a cleaning every six months may make the difference between having no cavities and requiring a root canal with filling.
Great Customer Service
Once you have a plan, it is important to feel comfortable with the service you receive. Look at the service statistics including how quickly claims are paid, if problems are resolved expediently, and how good the phone service is. This can often make the difference between a nightmare carrier and a great carrier.
Out-of-Pocket Expenses
If you know you want to minimize your out of pocket expenses as much as possible, then choosing a dental HMO over a dental PPO may be the right choice for you. With a dental HMO, you will need to pick a primary care dentist from your HMO's list of providers and then all your care will be managed from that dentist. If you need to see a specialist you will have to get a referral and pre-authorization. Usually the co-pays are very low and with other treatments there is a fixed amount.
Check What the Plan Excludes
There are usually about 30 to 40 exclusions in any dental plan, including limitations and restrictions. One thing to be aware of is the "missing tooth" clause and this excludes dental work on the teeth that are next to a missing tooth (a pre-existing condition).
Other Considerations
Also consider online services and if you can fill out claims online. Being able to manage your dental care online may save you a lot of time and money. If you have any questions about dental plans please contact Riverstone Dental Care today and we will answer any questions you may have.



Categorised in: Financial, General Dental