Dental Implant FAQs
November 2, 2015 2:07 pm
---
If you're missing teeth, smiling, eating, and talking can seem like daunting tasks. Replacing missing teeth with dental implants has many benefits for your health and confidence. With proper care and maintenance, your dental implants can last a lifetime!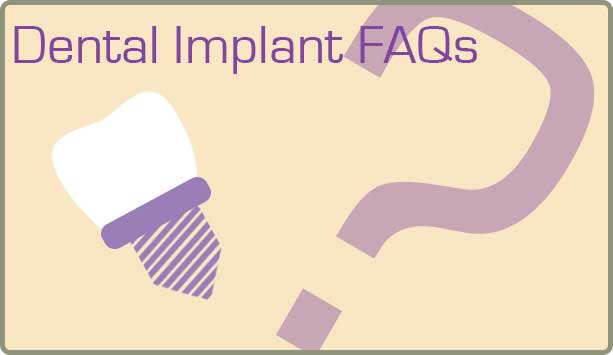 What if my plan doesn't cover dental implants?
Surprisingly, most insurance companies don't cover the full cost of replacing missing teeth, no matter how you lost them. Whether from an injury or tooth weakness, having missing teeth can be stressful. Our office accepts CareCredit to help you get the care you need at a rate you can afford. Ask us about your flexible financing options at your consultation!
Am I a candidate for dental implants?
Not every patient is eligible for dental implants. The most important factors to consider are gum disease and bone density. Dr. Linkous will take full x-rays for a consultation to decide whether or not implants are right for you.
Do dental implants hurt?
Just like with any restorative work you have done, there may be some tenderness after placing an implant, though most patients say the discomfort is pale compared to any pain they previously felt from tooth decay or injury. We are certified to administer sedatives in our dental office, so we'll make absolutely sure that you're comfortable before proceeding with treatment.
How long does it take to get an implant?
Dental implants are done in just one visit. Because the post of the implant is made from titanium, a little bit of science has to happen before the implant crown can be placed over the post. Titanium is biocompatible, so it fuses naturally to the jawbone over the course of a month or two to create a strong foundation for the crown above. If the crown is placed too early, the implant could be too weak to support it, resulting in a failed implant. Don't worry though, a partial denture can be worn while you're waiting for the post to set.
Why should I replace a tooth that isn't visible?
Many people shy away from replacing back molars that have been lost. However, the benefits aren't just for your spirit – they're for your health, too! Dental implants not only enhance your ability to chew and speak, they also prevent further bone loss in your jaw. Too much bone loss in your jaw can result in major health issues later in life, and affect the other teeth around the space.
Categorised in: Dental Implants, Restorative Dental Care