Why You Should Maximize Your Dental Benefits Before the End of the Year
December 1, 2016 7:59 am
---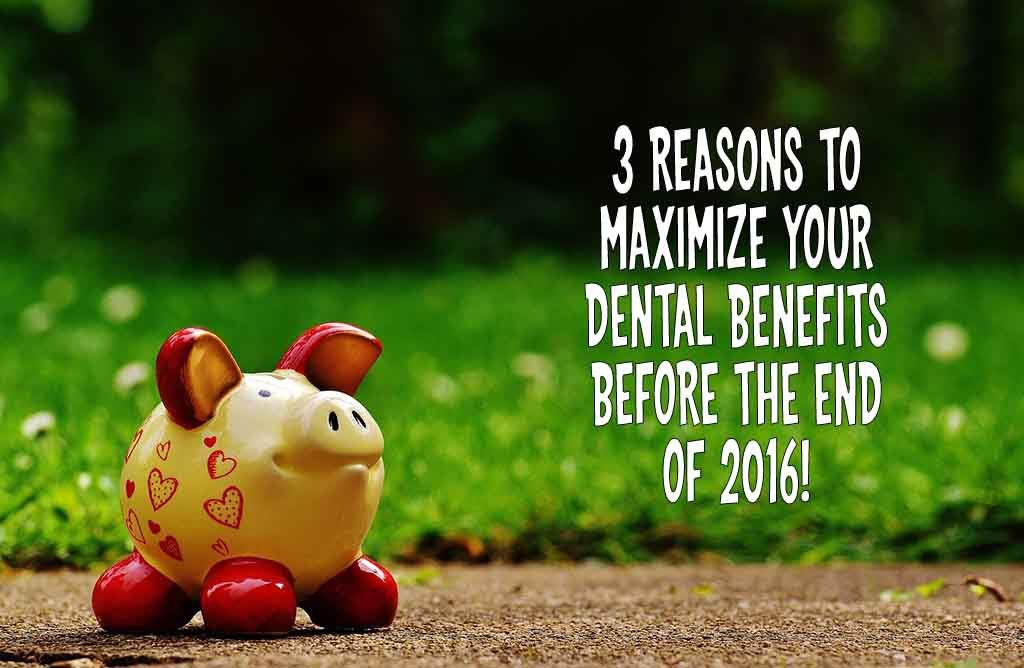 Why is it important to use your dental benefits before the end of the year? In addition to being proactive about your oral health, it simply makes good financial sense to capture every cost savings you are entitled to.
Become familiar with the terms and limitations of your particular plan. If your coverage is based on a traditional calendar year, everything starts over on January 1, 2017. Deductibles and yearly maximum benefits equate to dollars, so keep all you can, while you still can.
More Preventative Services
Most folks do take advantage of the preventative check-ups offered by their plan. In the lion's share of policies, twice a year exams and cleanings are standard, and often not subject to deductibles. If, for example, you saw the dentist in January, and then again in July, for a "well exam" and cleaning, you really would benefit from one more before year-end. Remember how good your teeth feel after a professional cleaning? If you still have available benefit dollars sitting on the table, this is a great way to use them to your advantage.
Restorative Care
If you are undergoing some long-term restorative procedures that make you a constant presence in our dental chair, it is especially important for you to use up every dollar of your benefit allowance this year. In addition, in just a few short weeks you will be subject to another deductible. If you need to begin restorative procedures, including, root canal therapy, tooth extraction, or dental bridges, this is a good time to begin. Our staff at Riverstone Dental Care can devise a treatment plan that can begin in 2016 (to take advantage of unused benefits) and will continue into next year; a solution that maximizes your benefits and minimizes any out of pocket expense.
Don't let your money disappear
Do you also have a "flexible spending account" you haven't emptied yet? All the more reason to use your end of the year dental benefits. Maybe you are ready to consider cosmetic options. Riverstone Dental Care offers a full line of smile-enhancing elective procedures.

Don't get hit with a double whammy. Follow us on Facebook, and then contact us today and schedule an appointment.





Categorised in: General Dental