Porcelain Veneers in Canton, GA
If you are suffering from one or more dental flaws, porcelain veneers may be just the thing to restore your smile. Veneers are thin, tooth-shaped shells that are custom made from pieces of porcelain. Bonded directly to the front of teeth, veneers can be used to repair:
Breaks and chips
Cracks and fractures
Discoloration and stains
Gaps and spaces
Slightly misaligned teeth
Misshapen teeth
Unusually short teeth
Teeth with minimal tooth structure
Contact us for more info »
Ask Us About Snap-On Smile for Your Smile Makeover
Affordable Cosmetic Solutions! See Details >
Porcelain Veneers FAQs
How are porcelain veneers made?
It normally takes two visits to Riverstone Dental Care to design and create your custom veneers. The purpose of your first visit is to prepare your teeth through a light buffing and reshaping process to accommodate the thickness and size of the veneers. Molds and impressions are then taken and sent to a dental laboratory.
Do porcelain veneers hurt?
The most invasive portion of placing veneers is the enamel removal and shaping of your natural teeth. If necessary, our team will administer a local anesthetic to numb the area and keep you as comfortable as possible throughout the process.
How much do veneers cost?
Each patient has different needs and the cost of veneers is determined on a case-by-case basis. If you have insurance, we're happy to investigate your coverage and provide you with an exact cost breakdown before treatment. If you're uninsured or need additional assistance with out-of-pocket costs, we accept third-party financing through CareCredit® and LendingClub®.
Can veneers get stained?
Porcelain is stain-resistant so your veneers can withstand a normal amount of staining foods. However, your porcelain veneers should still be cared for similarly to your natural teeth. Ensure you're brushing twice daily for two minutes at a time and flossing at least once per day to prolong the lifetime of your veneers.
Are porcelain veneers permanent?
Due to the shaping and modification of your natural teeth, porcelain veneers are considered a permanent treatment. With this in mind, our team works diligently to create a smile that you won't want to reverse.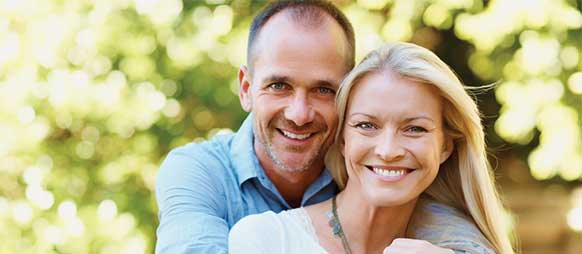 Our dentists, Dr. Linkous and Dr. Tran, will invite you back to our office for your second visit once your veneers have been completed. After we make sure that everything fits as it should, your veneers will be permanently cemented into place. When taken care of properly, dental veneers in Canton, GA, can last for over a decade. We encourage you to contact our dental office today if you are interested in learning more!
Call
our office to learn more about our cosmetic services in Canton.