For our dental team at Riverstone Dental Care, the heart of our practice is about keeping teeth and mouths as healthy as possible. This includes preventing decay while repairing any damage or problematic conditions when necessary for the health and benefit of each patient. Dr. Linkous and Dr. Tran are proud to offer this sort of dentistry for patients of all ages, including children. In fact, pediatric dentistry in Canton, GA, is an important part of what we do here. We believe that helping our patients have positive dental experiences from a young age can affect their overall oral health for the rest of their lives. This includes feeling comfortable in a dental office and with our dentists, learning proper oral hygiene habits, and learning to love their teeth.
Contact us for a family-block appointment »
We see patients of all ages!
Schedule an appointment today. Call Today »
First Visit by First Birthday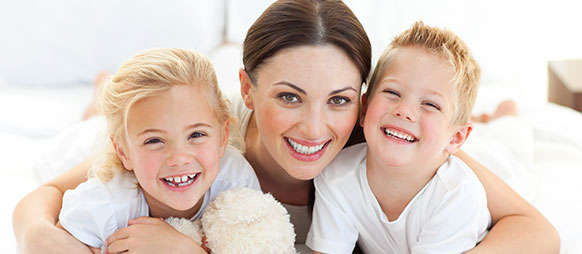 In accordance with the American Academy of Pediatric Dentistry, the best time to start establishing these habits and relationships is by the time your child reaches his/her first birthday. We invite you to bring your child to the dental office for their first visit by this time. This visit will focus on helping your child feel comfortable and performing an easy examination to discuss the growth of your child's smile.
As your child grows older, we will continue to guide you through each step of the oral development process. By the time your child turns two, we suggest coming in for a dental cleaning.
How to Prepare Your Child for Their First Dental Appointment
Depending on your child's age, it may be important to work with your child ahead of time to help them feel comfortable during the appointment. Young children may feel anxious about going to a new place, but they shouldn't worry about visiting us! We make it a fun experience. One of the best things you can do is to talk positively about the dentist and dental health. Tell them about how good of a time they're going to have at the dentist, and how healthy and beautiful their smile will look afterward. Leading up to the appointment, make sure you work with your child on establishing a good oral hygiene routine. If you have questions about how to
brush your child's teeth
, flossing, or anything else tooth-related, let us know at the appointment. At-home care is very important, so we're happy to help you feel confident in the care you provide.
We work hard to provide all of the treatments you and your family need in one location! If you have questions about your child's dental health, please give us a call.